33 New Vulnerabilities Patch in Android update.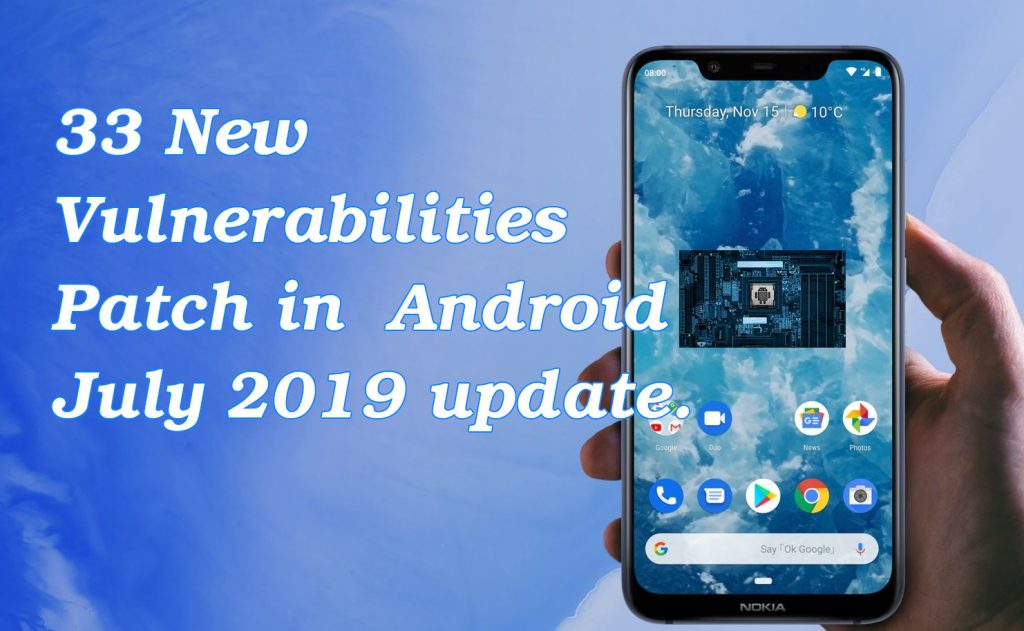 Monthly security update to the Android operating system has become a thing for well over a year now, in which 33 New security vulnerabilities was a patch for Android devices, 9 of the vulnerabilities are rated critical in severity.
T
he android component that is affected by these vulnerabilities includes Android Operating system, Library, media framework, and even closed-source components like Qualcomm.
The July 2019 android security patch of 33 new vulnerabilities, has three critical patches reside within Android's Media Framework, the most severe of which could allow arbitrary code to be executed on the target device remotely, the method behind it is a privileged process, by convincing a user to open a specially crafted malicious file.
"The severity assessment is based on the effect that exploiting the vulnerability would possibly have on an affected device, assuming the platform and service mitigations are turned off for development purposes or if successfully bypassed," the company says.
You also like Hongmeng OS: Huawei's New Android Replacement.
The seven critical vulnerabilities, that remain include one that affects the system, one affects the Android Library, two resides in the Qualcomm components (one in Kernel and the other in DSP_Services), and the other three resides in Qualcomm closed-source components.
One of the High-Severity flaw (CVE_2019-2104) resides within the Android Framework could allow an attacker to install a malicious app to bypass user interaction requirements completely in an attempt to gain access to additional permissions.
Six high-severity vulnerabilities addressed in Qualcomm components reside in WLAN Host (CVE-2019-2276, CVE-2019-2307), WLAN Driver (CVE-2019-2305), HLOS (CVE-2019-2278), and Audio (CVE-2019-2326, CVE-2019-2328).
The android's vulnerabilities surrounded by this article aren't publicly disclosed or found to being exploited in the wild according to the Android Security advisory.
<br/>
You may also Like: Android Antivirus Apps Are fake and Ineffective to a virus.
The July 2019 android security update isn't all about the vulnerabilities listed within this article, it has been shipped with the various fix for supported version of the Pixel devices.
These security updates will be released shortly for pixel smartphone users, while users of various manufacturers have to wait for there Android device Manufactures or service providers to roll out these patches to their devices.
We strongly recommend that Android users download and install the latest security update for their devices as soon as possible to avoid any potential attack against their devices.
Have something to say about this article? Comment below or share it with us on Facebook, or Twitter, join our Telegram group.