How to use Kali Linux to remove windows password ( 7,8,10).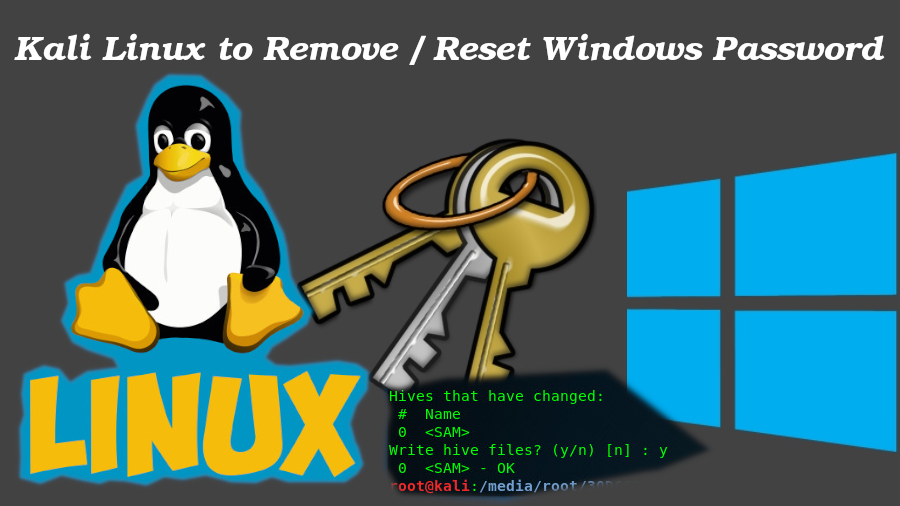 Hello everyone in today's article we will be showing you in just under 1 minute how to use Kali Linux to remove / Reset Windows Password, which isn't limited to just Windows 10 but can be used on Windows 7|8 |8.1| windows server version as well, with any pen-test Linux Distro with Chntpw tool installed.
D
o you forgot your windows 10 password, but you don't want to format your laptop hard drive which you losing all your data? well if yes you are at the right place, So today i will be showing you, how you can use Kali Linux to remove windows password from windows 7 to windows 10.
Prerequisite:
A second computer ( with an internet connection ).
A USB flash drive of a minimum of 4 GB storage space recommended drive space is 8 GB.
Kali Linux ISO which can be obtained here.
Follow this article to burn Kali Linux ISO to the flash drive. Making Bootable USB drive.
How To Crack Windows 10 password using Kali Linux.
After all the above prerequisite has been met you need to power off the machine which is password protected and insert the bootable flash drive into the system.
1.First power on your password protected windows machine with the Live Kali Linux USB inserted.
On the boot menu of Kali Linux, select Live (forensic mode). Kali Linux initialize and when it loads, open a terminal window and navigate to the Windows password database file.
Almost all versions of windows password are saved in SAM file. This file is usually located under /Windows/System32/config. On your system, it may look something like this: /media/96YHYFB11Q524RQA23Q/Windows/System32/config. Below is the screenshot.
You may Also Like: Top 5 Best Torrent Clients For Linux Distros

The SAM database is usually in the /media/hard_drive_serial_number/Windows/System32/config
2.The screenshot below lists the SAM database file on my hard drive. ls -l SAM*

3. Type command chntpw -l SAM and it will list out all the usernames that are contained on the Windows system.
4. The command gives us a list of usernames on the system. When we have the username we want to modify and we simply run the command chntpw -u "username" SAM In the example below we typed: chntpw -u "KryptosTechnology" SAM and we get the following menu: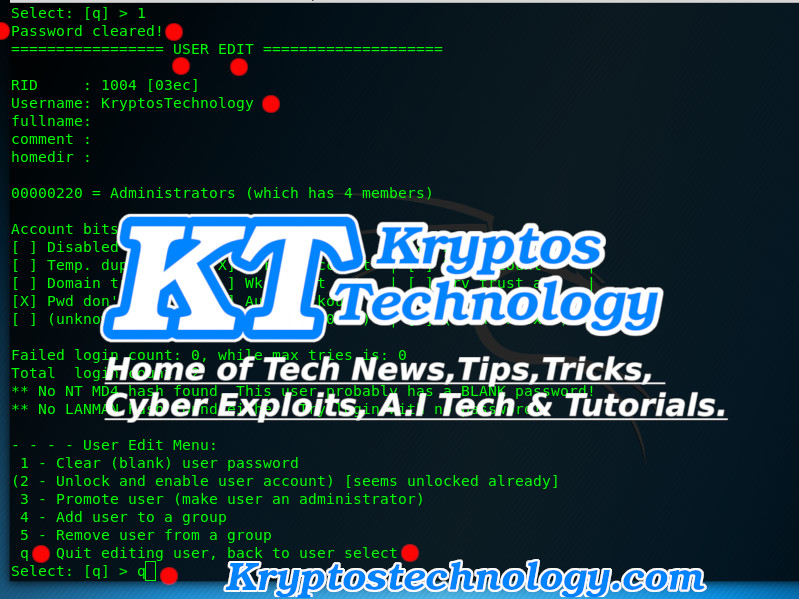 5. We now have the option of clearing the password, changing the password, or promoting the user to administrator. Changing the password does not always work on Windows 7 systems, so it is recommended to clear the password. Therefore you will be able to log in with a blank password. You can also promote the user to a local administrator as well.

Now everything has been set and password has been clear, so you need to power off your computer and unplug the USB Flash drive and power on the device and you will automatically login account without a password request which in this tutorial our user account will be "KryptosTechnology".